Praise is a Weapon
"The Spirit of the Lord God is upon Me Because the Lord has anointed Me To preach good tidings to the poor; He has sent Me to heal the brokenhearted, To proclaim liberty to the captives, And the opening of the prison to those who are bound; To proclaim the acceptable year of the Lord, And the day of vengeance of our God; To comfort all who mourn, To console those who mourn in Zion, To give them beauty for ashes, The oil of joy for mourning, The garment of praise for the spirit of heaviness; That they may be called trees of righteousness, The planting of the Lord, that He may be glorified (Isaiah 61)."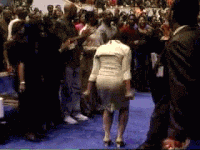 The garment of praise is not just flowery descriptive language or just some cute metaphor.  It is a literal offensive and defensive weapon. This weapon can be used against literal demonic powers. 
Similarly, the spirit of heaviness is also not just a pretty metaphor. It is a real spirit or demonic power that causes the children of God, both those of obedience and disobedience, to feel downcast. 
The spirit of heaviness may be the same as or exist in addition to the chemical imbalance and physical/emotional infirmity depression, that requires medication. We can be physically infirmed and at the same time be spiritually oppressed. Now, whether or not we can be physically infirmed with a chemical imbalance causing depression and NOT at the same time spiritually oppressed by the spirit of heaviness I do not know. 
What I do know, however, is that praise is a weapon and you can use it to put the spirit of heaviness to flight. Freedom is the inheritance of the Children of God and if the spirit of heaviness has made himself at home in your space you have the power and authority to kick him out! 
Kick the spirit of heaviness out of your space today by beginning to praise God. Every time you feel heaviness start to come on start praising. The garment of praise is your weapon and to wear this garment you must adopt a lifestyle of praise and thanksgiving.
Yes, you may get weary but remember, "Even youths grow tired and weary, and young men stumble and fall; but those who hope in the Lord will renew their strength (Isiah 40:30-31)."
Lastly, please remember, you don't have to feel feelings of happiness to praise God. However, when you start to praise you might feel happy because you took the time to think about how truly good God is and has been to you.